Cankles and Oak Trees
I have been cursed with cankles.
I quickly learned of this term ages ago when I couldn't find my ankles to save my soul.  I looked high and low, but there wasn't an anklebone to be found.  My long legs go straight from my knees to my toes with no definition in between.  Hence the urban term, "cankles"—calves and ankles all rolled up into one.  And from what I've learned, it's hereditary, so I want to thank my great, great, great, great, grandmas.  I could have used a lineage of royalty and wealth, but no, they gave me poverty and cankles instead!  Gotta love family!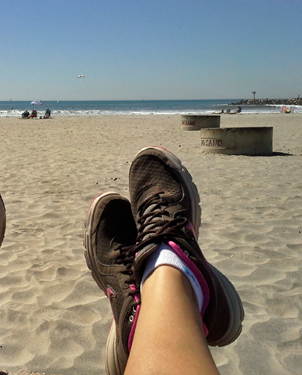 And that's not the whole story.
I have a last name in my heritage that means trees.  Actually, it translates into forest, i.e., many trees.  Ugh.
Combine my family name, with my height of just under 5'11" with my cursed cankles, and I have always despised the reference to trees for me.  I always thought I was a living example of a huge ol' tree.  Not a little delicate flower, not a glamorous part of the scenery, not a feminine fragile item…nope, a big ol' round, masculine, tall, mammoth tree.  Do you get the picture of what I've had to endure for my life?  Downright depressing.
Until a few weeks ago.
Until I read the sweet words of my man, Isaiah.  I guess I had glanced over it before, but never "saw" it.
Right there in chapter 61, middle of verse 3, these words had new meaning for me:  "They will be called oaks of righteousness, a planting of the Lord for the display of his splendor."
Say what?  Can my own, personal, family-lineage of mammoth people and straight legs actually be found in scripture?  Well, sure looks like it!
Ok, maybe I'm bending the Scriptures a bit to fit me, but really, a reference to a majestic tree?  I fell in love with the verse!
But what about you?  There may be definition beyond your knees, a lineage of great names, and petite clothes hanging in your closet, but you, too, are referred to as a mighty oak—a tree that has always been a reference to strength, resilience, and majesty.  Yes, you!
Isaiah was speaking directly to the people in this verse.  He wrote of the power of being planted by God to be seen great amongst the others.  Now that is a description I can live with!  How about you?
But, I wonder if you have times like me when I don't always feel like an oak tree? Times when I don't feel majestic and grand and proud, times when I feel puny in my faith, and stripped, and defeated.  Have you had these too?
It took an open field near my house to help me figure this out.  You see, in Southern California, oak trees aren't prolific.  In fact, they are rare.  But in their place, we have scrub oak—trees that flourish and populate the hillsides.  They are from the family of oaks, but they are nowhere near the big ones.
And in looking at the field, thinking of Isaiah's verse, and along with my lineage, and life's problems…it all came full circle.
God's intention and promise is to plant us and call us great Oaks.  That is our mission, to be righteous in our faith and display HIS splendor as grand as those trees.  But when life happens, and the times hit where we fall short of the majestics, we have to remember we are still part of the Oak family.  We are still a precious species that is synonymous with greatness, resilience and strength.
So if you live in the arid southwest, or the wet climates of every other state, or the lushness of a different continent altogether—find your oak trees.  Gaze upon them and see yourself.  Look at these trees as examples of your blessing from God to be a majestic splendor in the midst of muted plants.  Whether the species is scrub or grand, take heart that you are a mighty, mighty oak and will be called righteous among His children.