Beauty
"So God created man in his own image, in the image of God he created him; male and female he created them."  Genesis 1:27 (NIV) 
"God saw all He had made, and it was very good…" Genesis 1:31a (NIV)
Just within view through the kitchen window, I catch the lavender plants, blooming in the bright sunlight.  The bees and butterflies are flying back and forth, taking from the flowers the life giving nectar that will sustain them. So many blooms, so much abundance;  the stalks bend downward back to the earth.
I set the last plate into the dishwasher, work my hands across the soft towel and retrieve just the right vase from the nearby cabinet.  Clippers in hand, I switch focus from chores to harvest.
I have been waiting for this day.  I have been waiting for the bulging blooms.  Beauty will remain outside as well as take its place inside.
I clip, prune, and fill the vase.  The aroma is overwhelming.  I inhale, taking a full breath of the sweet, gentle, distinct smell that only Lavender has.  I close my eyes and feel tranquility.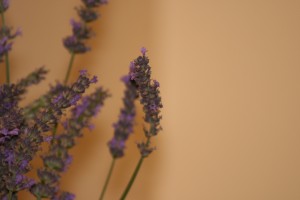 Beauty.
I thank God for this small, very small, glimpse of beauty.  Beauty—in the form of the small delicate blooms. Beauty—in the form of deep fragrance.
And God made it.
And He made me.
And He made you.
And we gaze upon the flowers and see the beauty, yet we gaze upon ourselves and see the flaws.  We gaze upon this human body and see the imperfections first and forget the perfection of the creation.
We forget the perfect Creator.
If we are made in His image, how much more perfect can we be?  How can I see a flower and call it beautiful, yet see the mirror and curse its' image?   If we are "wonderfully and perfectly made", than why do we think we have to be anything else?
It is a struggle of mine.  It may be a struggle of yours.  Imperfection is at the forefront.   Can I live with my imperfections?  I must. Can you?  Will you?  Can we lose weight, color our hair, paint our nails, tone-up a muscle or two, and still focus on the beauty of the creation?   I think I can.  Do we have to degrade ourselves through it all to make a point or can we exalt that we are a close second to what God looks like?   Even while we're on the treadmill!
If God made a lavender bush so beautiful, than we must believe that He made us so much more.
YOU ARE BEAUTIFUL–Believe it!!
HOPE IN MOTION:
 I have a challenge for us.  Are you willing?   Cut, pick, prune, or buy just a single flower–any type, any  weed, any form that  has a bloom, but just one.  Put it in a vase, put it somewhere you will see it often.  This single flower will be a reminder that although it is beautiful, God sees you as much, much more.  Others will see a single flower, but we will know the lesson we are learning.  As you delight in the bloom, remind yourself that God is looking upon you with the same delight.   Let's do this–ok?  A simple flower may speak volumes to our self-image.
Tell another woman today, any woman–even a stranger, that she is beautiful (after all, she is your sister). You will make her day!
I would  love to hear feedback on your thoughts of this post and our connection to nature's beauty. We women need to start reminding ourselves (and each other) just how beautiful we are–and it has NOTHING to do with hair style, clothes, shoes, makeup, body size–the list can go on and on.