Scars
 "There, they nailed him to the cross."  John 19:18 NLT
Small reminders grab us hard sometimes—don't they?
It was farther up ahead.  Not discernable, but definitely didn't blend in with its' surroundings.  As we got closer, the object came clearer—as if being focused by a lens.  The stroll along the water would produce much more than a seashell.
My husband leaned down and picked it up.  He handed it to me.   We were quiet for a moment.  Our thoughts were the same.
2000+ years later—we knew it wasn't the original, but the similarities were there.   The size wasn't even close, but the shape and purpose, were.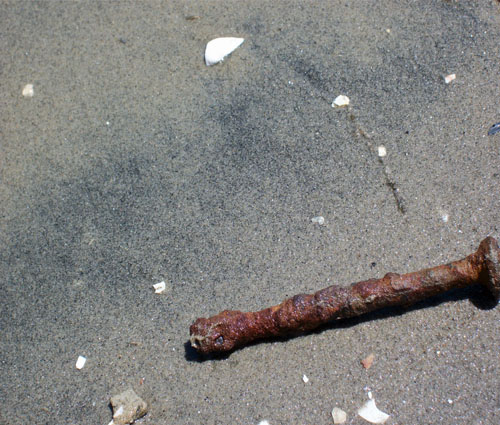 There in that small object was a huge reminder.
He took the nails for us.
More aptly said, He took the spikes for us.  He took sharpened iron nails that were long, and heavy, and meant for death….for us.  He took these through the tendons of his hands.  He took these through the nerves and ligaments of his feet.   They left holes; the blood flowed. He bore the incredible pain.
For Me.
For You.
I softly cry as I type these words of His anguish.   I just fell out of my self-absorbed life for a moment.  The reminder is there.  I didn't deserve that sacrifice.  Yet, He says I did.  And He screams out that you did, too.  And that is a gift beyond measure!  That is where the Hope was made real.  The Hope that death will not defeat us.  The Hope that fills our road to eternity.
Just a reminder in a simple spike, found along the shoreline.
A reminder, now in typed words.
What do we do with that gift?
It's a choice only you can make.
Lord, forgive us as we have forgotten your sacrifice for us. Forgive our hearts that have hardened against Heaven, but have softened for the world.  Open our eyes to see that You, and only You, are the giver of life. Thank you for the cross. Thank you for the gift. Bless us that we may live out that gift through a life of honoring You and serving others.  I am so sorry Lord for the selfishness of my thoughts that makes me the center of the universe and not you. Take my heart, it is Yours, I give it freely to You.    I am Yours, You are mine.