Sticky Notes
"To keep me from becoming conceited because of these surpassingly great revelations, there was given me a thorn in my flesh, a messenger of Satan, to torment me."
2 Corinthians 12:7
Iwoke up with pain the day I needed to write this post.  I could barely focus on the keyboard, let alone put my thoughts together to form a sentence.  Every bit of my mood and desires took a turn from lightheartedness to somber. I could only focus on the pain.    And I thought of Paul.
One of the most talked about mysteries of the Bible is what was Paul's "thorn in the flesh"?  I have heard commentaries from a limp in his walk, a deformity of his body, a mental disorder, to an ever-present illness that in today's standards could be treated.  Whatever the problem, it was big enough and constant that Paul made note of it.  So much so that he equated it to being tormented by Satan.  Wow!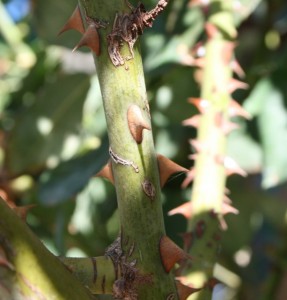 Do you have a thorn in your flesh?  Is there something that has remained with you, and is now a constant reminder?  So many of us have them, reminders that is.  And so many of them are horrendous.  I've heard the stories, I've read the emails, I've heard the prayer requests—the days begin and the days end with the reminder.
Thorns.  They can be overwhelming.  And yet, can they be used?
Paul's focus was not on the thorn; it was on the purpose.
Paul tells us he uses the thorn to remind himself he needs Christ.  Not that he enjoys it, loves it, wishes he had more, but that he uses it like a sticky note.  He USED the reminder, as just that–a reminder–of needing Christ.  He was given great talents in spreading the Word; professing his faith with great revelations (Paul's words, not mine).   Paul recognized he had a lot to boast about. Yet, Paul chose not to focus on all he had accomplished, but chose to focus on who is greater than he—Jesus Christ!   And he used his thorn as the reminder–"For when I am weak, then I am strong."
I have had these days of thorns.  With each passing year, my body aches worse, and some days the pain just doesn't go away.  Do you have these?   I have been on my game and pat myself on the back for all I did that day, then the limp, the pains, the illness remind me of my weakness.  The constant reminder quickly interrupts a good day.   Then the "why's" follow–or better yet, the "why not's."  Why haven't you healed me Lord?  Why must I endure?  Why have you given this trial to me?
And once again, God provided an answer.  He gave us the example of Paul.  Paul tells us he pleaded with God three times for it to be removed; yet it never was.   He gave us an insight of how someone who received the answer of "no" from God learned how to prevail.  Paul accepted it.  And Paul used it.
What if we approached our thorns this way?  What if we pray for relief, yet choose to see the power of it all when the prayers aren't answered the way we want?  Can we become a greater medicine to others through our pain?  Can we actually garner strength from our physical weakness and exalt God at the same time? Paul certainly did.  Could I learn that lesson?  It happens even today.  If you don't believe me, just wait, soon you will hear yet another story of someone who walked through a major tragedy or illness and became a God-centered blessing to others.   That is where weakness becomes strength! (need I mention the name of joni eareckson tada? read her story!).
I know so many of you have reminders that I can't even imagine.   I cannot come close to understanding your thorns.  Nor am I suggesting that they are from Satan, or that they are a divine appointment for a purpose.  I wouldn't insult you with that. Those were Paul's words given to us as an example.  I may only be able to remind you of how Paul approached his.  He helps me approach mine. And in it,he tells us of God's comfort, "My grace is sufficient for you, for my power is made perfect in weakness."
It is a reminder that when days are full of physical pain and limitations, we can still be an example of His greatness.It won't be easy a lot of the time–our  thoughts and whispers will be full of pleadings to remove the pains and illness from us. Those prayers may or may not be answered with relief, but our commission remains the same—
that others will see He is the strength when we are weak.
   I pray you will learn this commission with me, because it truly is a learned way for us to live.
HOPE IN MOTION:
If you struggle with a thorn as a reminder, take heed and read 2 Cor 12:8-10.  There is strength in these words.
Can you focus on Jesus when the reminder hits?  It may be only for a few minutes and then it fades, but like Paul said, this is a learned skill.  It can only be mastered when it becomes routine.  Don't give up.
Purposely do something for someone else today—a kind email, a handwritten note, a cooked meal, a spoken word of kindness.  In your weakness, let His strength shine through.