In the Dark
"The woman (answered) the serpent, 'We may eat fruit from the trees in the garden, but God did say, 'You must not eat fruit from the tree that is in the middle of the garden, and you must not touch it, or you will die.'"
Genesis 3:2-3 NIV (my emphasis)
A stir-fry was on the menu for the evening.  I washed, cut and separated all the vegetables needed for the dish.  I put them in their different piles, prepared the sauce and readied the big pan for the quick action of the dish.
As I looked at the pile of cut veggies, I realized I had forgotten one of our favorites—the all important mushroom.  I went to the fridge and reached all the way to the back of the bin for the fungi.  Darkness is where they began, darkness is where they grew.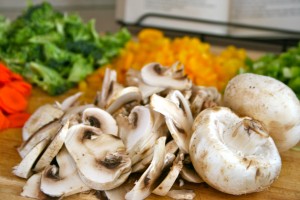 Can mushrooms teach us a lesson?    Maybe.
How does one vegetable grow in the dark but so many others need sunlight?  Mushrooms grow and prosper in the dark.  They are given the nutrients they need through fertilizer and treated soil, but direct sunlight would absolutely destroy them.  This is counterintuitive to every other vegetable that so many of us consume.   Sunlight is their essential ingredient.
Mushrooms are purposely kept in the dark.
God purposely keeps us in the dark.
Before the mail and remarks begin my way, let me explain first and see what you think.
In the verses at the top of this page, "the woman" (Eve) gives us a glimpse of what God had directed her to do, as heard in her explanation to the serpent (satan).  Can you see what I see, that God was keeping Eve in the dark?
We discover, after the fact, that God was not denying Eve—God was protecting Eve.  He purposely kept her in the dark over the details of the fruited tree.  The fruit, the tree, the part of the garden that God said to stay away from was bad for her.  He didn't give every detail of why it was bad, yet He warned her to stay away.   He wanted to keep her hidden from that which would cause her harm.  Yet, she couldn't see the benefits of that direction—she could only see being deprived.   She could only focus on being in the dark.   And thus the fall happened.
Maybe we are like mushrooms?    God sometimes needs to keep us in the dark in order for us to prosper.  Not in the evil dark, but the protective dark–the dark that has life giving and protective nutrients.
"Dear God….I don't know why this is happening."   "Why can't I have a relationship with____?"  "I really want this job."  "I've been asking and asking for______but it just isn't happening."     "Why, Why, Why?" …….and so on, and so on.
Can you see in Eve's story, and our own, that God has every intention of protecting us?  Do I dare say, too much knowledge would kill us?  Not the academic knowledge of this world but that which controls the universe. And I recognize this goes against every modern day creed–that we humans can't possibly know less than God does!
But from the very beginning He continually proves He does. Farther in the book of Genesis, we see for certain that God was not denying the woman of good.  We learn that he was trying to protect her from evil.
"And the Lord God said, 'The man has now become like one of us, knowing good and evil."  (3:22a)
I'd say this is the first reference to the modern day term–"ignorance is bliss."  God tried.  Eve didn't listen.  And so goes the battle to this very day.
I need reminders every now and then why I don't get my way when I ask God for what I WANT.  A mushroom gave me that reminder.   Sometimes, being in the dark is a blessing.   Sometimes, what we don't know is the very nutrient that causes us to grow.  Can you see this?
If you're in that dark time of not understanding something, don't lose Hope. Don't be discouraged.  Start thinking like a mushroom: Instead of cursing the darkness, praise the shelter–for that shelter keeps us from the harsh elements that will cause us to wither.  The darkness that sometimes feels like a covering can actually be the shadow of God's mighty hands hovering over us.    He does not want us to die to the Evil One, He wants us to live!
HOPE IN MOTION
Read Psalm 32:7.   A simple verse but quite possibly a reference to David being a mushroom!
During your prayer time this week, instead of asking for specifics, ask for God's will to be done, not your own.  Then thank him for always protecting you.  It is surprising how we accept some of life's difficulties and denials when we approach them believing God is actually protecting us from harm.
What do you think of this posting?  It goes against some traditional thinking.  Agree or disagree?  Would love to hear either way.